10 Ways to Style the Artifice Harness
I'll admit I haven't been fully styling myself every day while quarantined. And I miss it. I know I *could* get in a head-to-toe look each day, but it's really, really, REALLY cold in my studio right now and "dressed warm enough to survive" is all the energy I've been able to put into my own outfits. While sequestered in my thermal leggings and puffy vests, I decided to stretch my styling muscles by putting together a fun style guide digitally. We are doing everything digitally/virtually these days, so this felt quite natural. #quarantinelife y'all.
I created ten different fully styled head-to-toe looks and all of them incorporate one of my very favorite pieces in the shop: the Artifice Harness. 
Outfit #1: This look starts with a basic pair of coveralls that screams comfort and then accessorizes into a total uplevel of chic. Zero percent boring. One hundred percent chill. You're that breezy, effortless person walking down the street that everyone envies. You're easy confidence. You're style without trying. Congratulations. You've done it. 🏆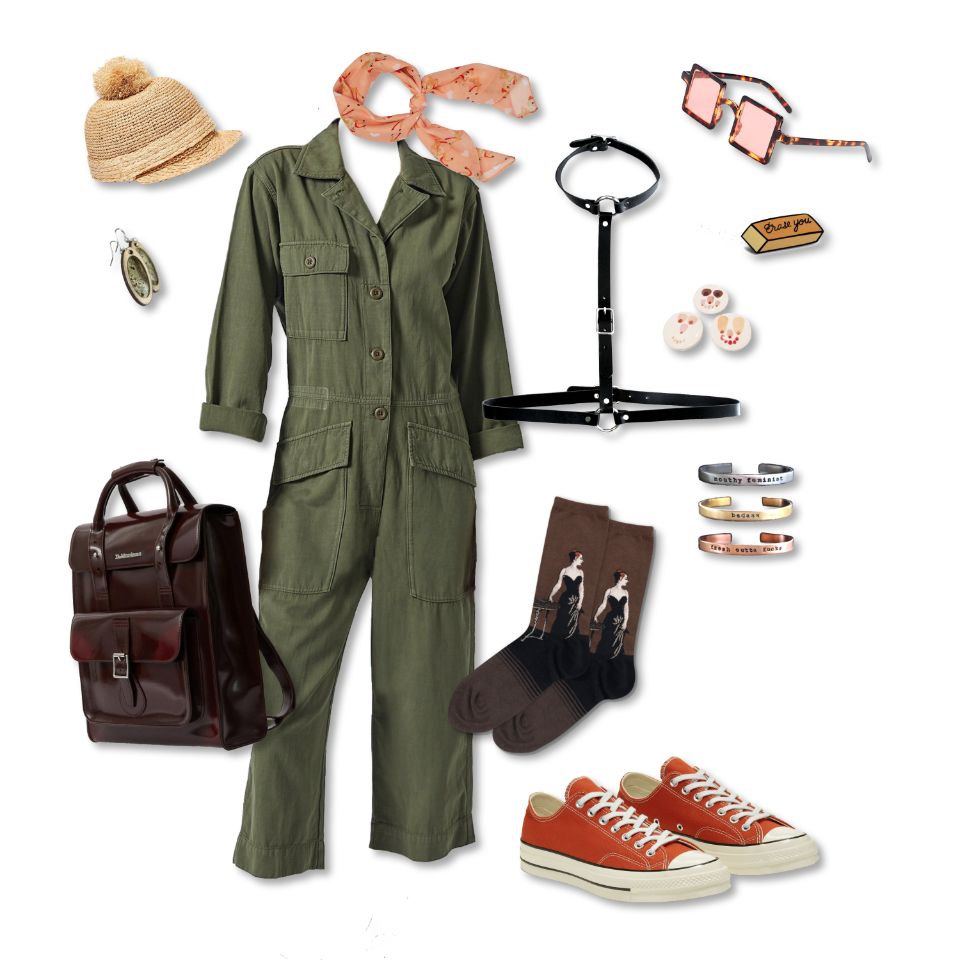 hat: ban.do
earrings: Bomb De Fleur
backpack: Dr. Martens
coveralls: Current/Elliott
scarf: Erstwilder via Daisy Jones Locker
harness: Audio Helkuik
glasses: SunVoss
pin: Tuesday Bassen via Otherwild
pin set: Rebekah Erev Studio via Otherwild
bracelets: Cynical Redhead
socks: HOTSOX
shoes: Converse
Outfit #2: Love feeling like LUXURY? Mmhmm, me too, me too. This sumptuous outfit has me feelin' all the luxe feels. Even though I want you to be as opulently femme as you wanna be, I made sure to include a mix of price points and even added in a couple local (Omaha) handmade shops that I love. Support a dream *and* look like a dream, right?? 🤎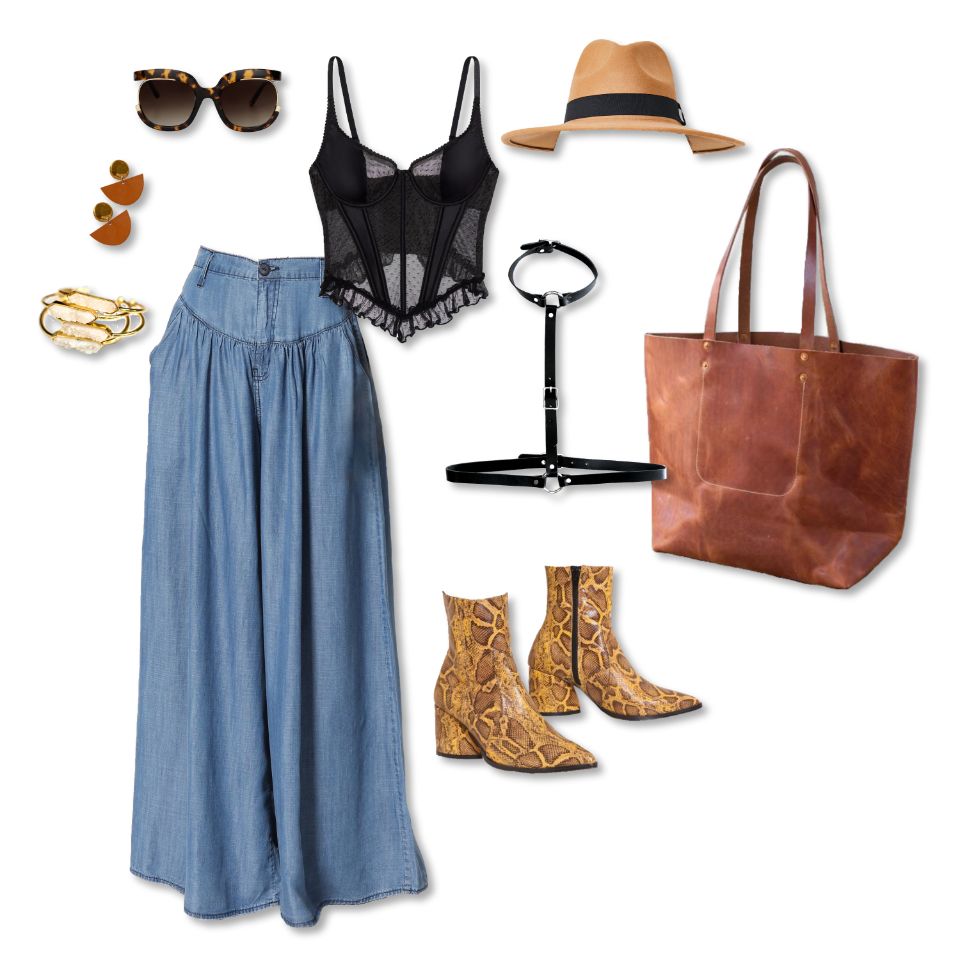 bracelets: Kristin Grace Jewelry
earrings: EARTHENjoy
glasses: Voogueme
bustier: Savage X Fenty
hat: Dolls Kill
bag: ARTIFACT
harness: Audio Helkuik
boots: Intentionally Blank
pants: TheMogan
Outfit #3: I love a suit with shorts. I know not everyone agrees with this sentiment, but the heart wants what the heart wants and my heart 1000% wants a cutie pie patterned shorts suit. Shame on me for ever muttering the phrase "...but menswear is so boring" because just look at all these exciting beauties playing together! 👓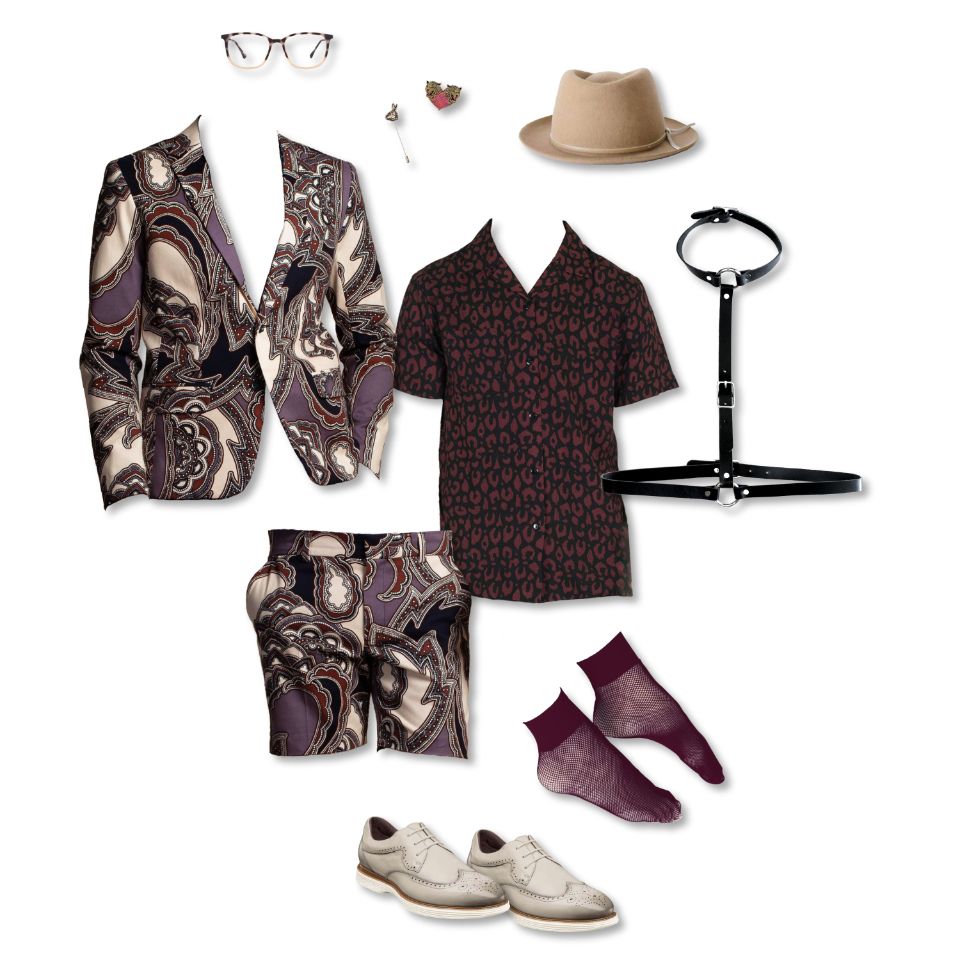 glasses: Zenni Optical
lapel pin: Peau de Loup
enamel pin: Wild Fancy Design
hat: Gigi Pip
harness: Audio Helkuik
shirt: Straight to Hell Apparel 
mesh socks: We Love Colors
shoes: Stacy Adams
shorts: Mr. Turk
jacket: Mr. Turk
Outfit #4: I call this look The Comfort Queen. Everything looks so cozy but still makes a cute, cohesive look. I love to FEEL like I'm in pajamas but never LOOK like I'm in pajamas. Plus, I'm obsessed with red+teal lately so I had to make a look based on this color scheme. It came together perfectly. Outfit #4, I love you. 🖤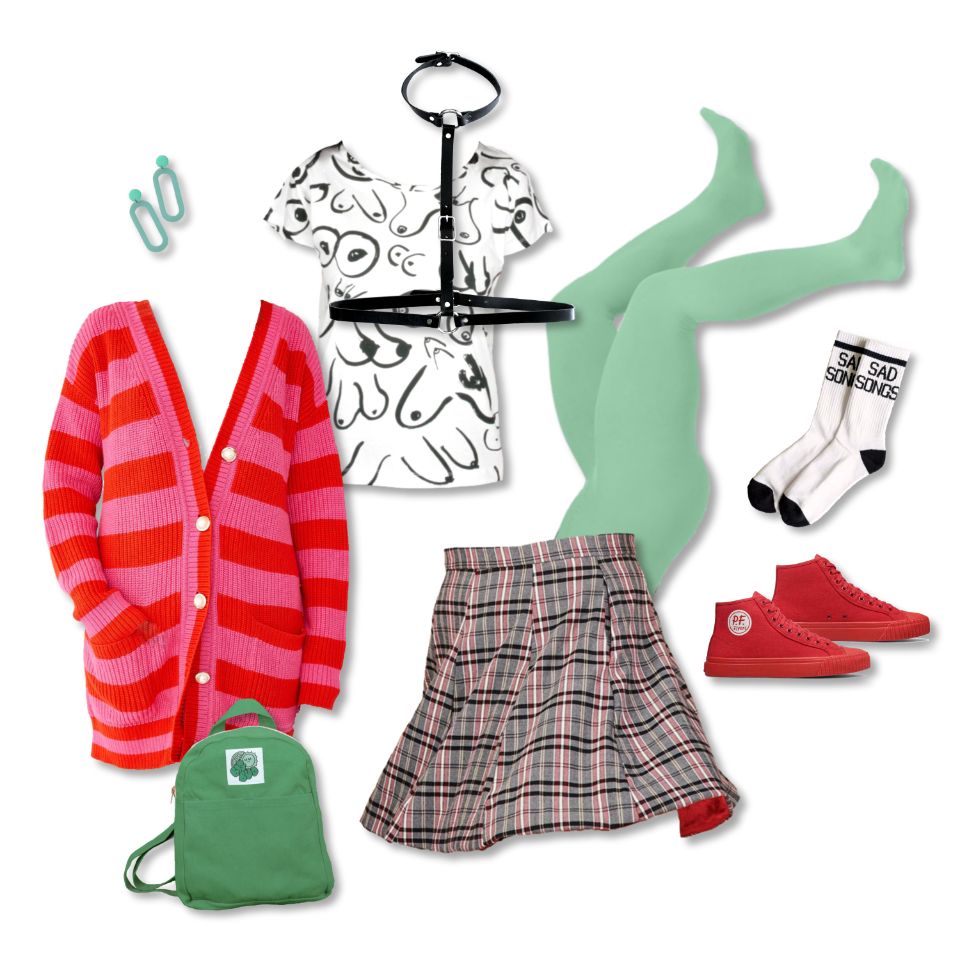 earrings: Eunice the Label
tee: Gravel and Gold
harness: Audio Helkuik
tights: We Love Colors
socks: Stay Home Club 
sneakers: PF Flyers
skirt: Tuesday Bassen
backpack: BIG BUD PRESS
sweater: ban.do
Outfit #5: This look gives off total sexpot vibes. Do you love to adorn yourself with a lot of special pieces but not have a lot of coverage? I got you covered.....figuratively speaking. Out of all the harnesses I offer, this style is the one that my customers report that they wear it with very little else. I'm sure all my harnesses are enjoyed this way, but something about the Artifice Harness encourages my customers to tell me about their leather-clad adventures. I *love* that you all feel super empowered in this piece. It's a good one. Keep enjoying yourself, your body, your sensuality, and your sexuality. You are sexy inspirations to me always. 😈🌹💎🖤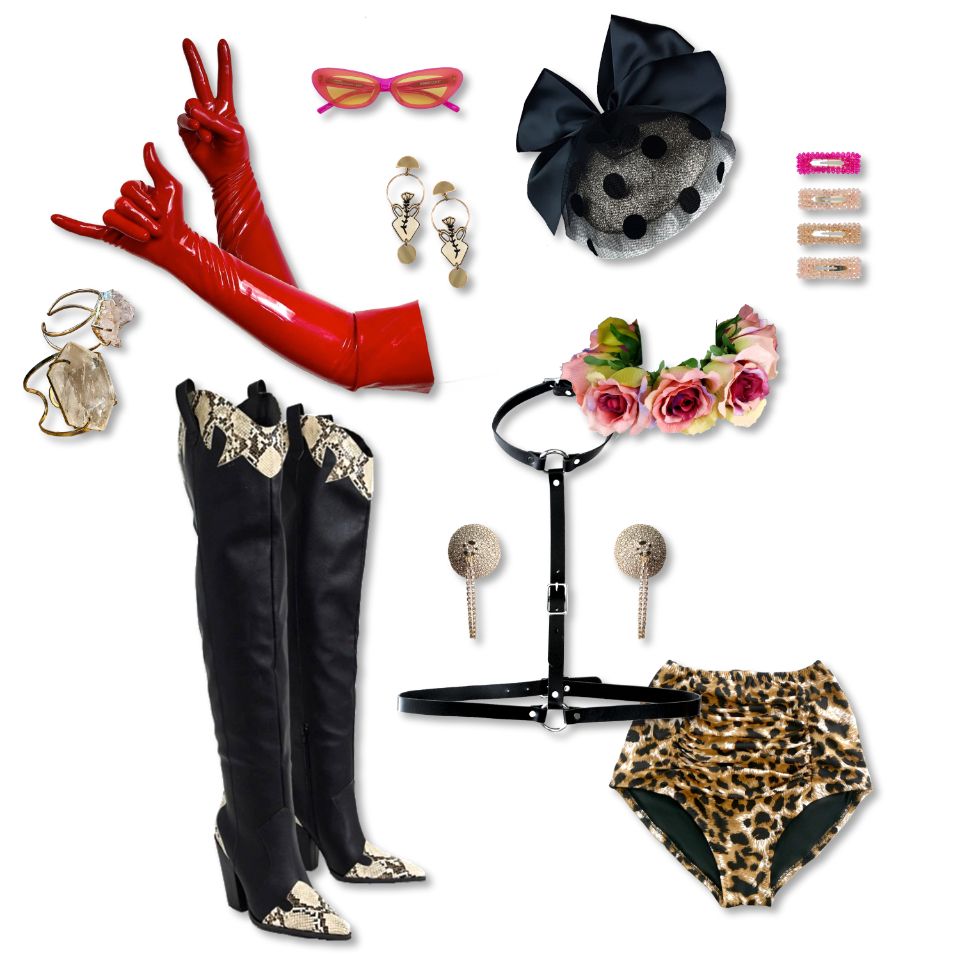 bracelets: Barbara C Pellegrino Jewelry
gloves: busted brand
earrings: While Odin Sleeps
sunglasses: Bonnie Clyde Eyewear
fascinator: Pearls & Swine
barrettes: h&m
floral ruff: Pearls & Swine
harness: Audio Helkuik
pasties: Spoil Me in Rhinestones
bikini bottoms: Bikiniboo
boots: Asos
Outfit #6: Pattern on pattern...on pattern on pattern. Fight me. I wanted all four of these patterns in this outfit and I have no regrets. This look has such a nice mix of neutrals+colors and also whimsy+classic, so it all works. Plus, SOCKS+SANDALS.....fight me again. I do what I want. 🧶🐒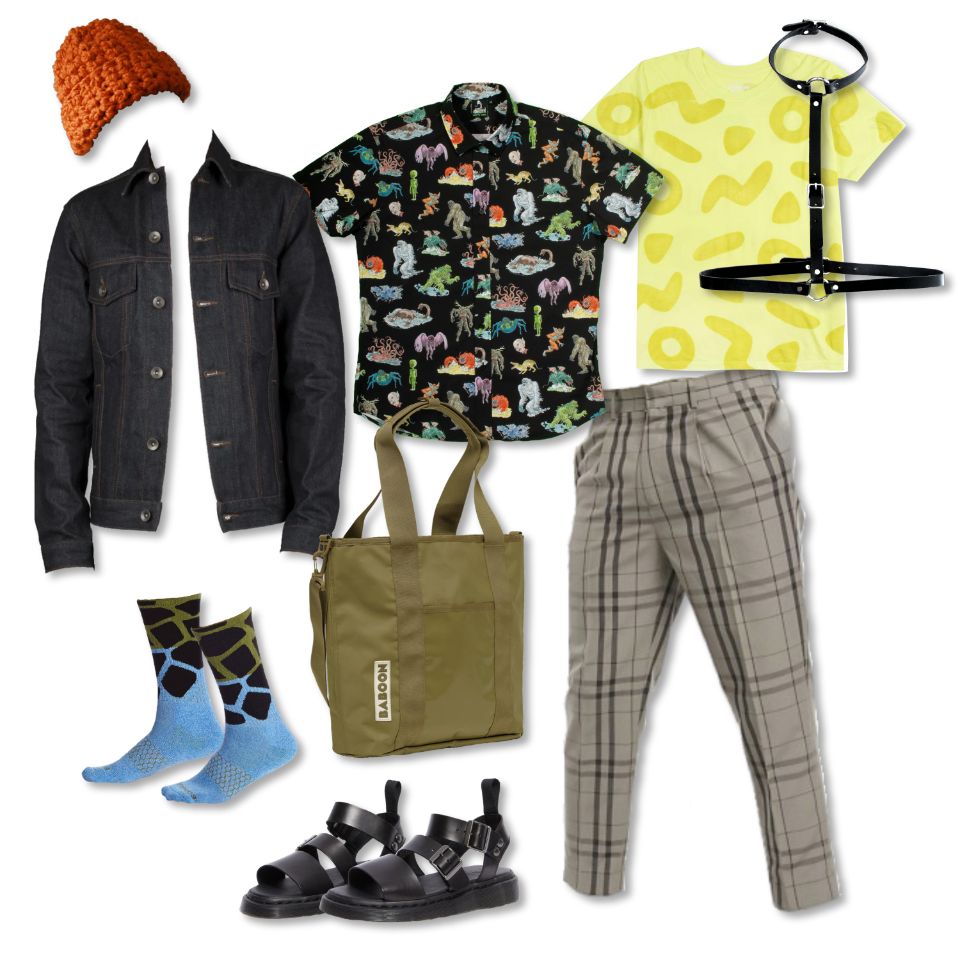 hat: Yokoo
jacket: The Unbranded Brand via Vincent Outfitting
shirt: PRETTY SNAKE
tee: Mokuyobi
harness: Audio Helkuik
pants: Asos
tote: Baboon to the Moon
sandals: Dr. Martens
socks: Bombas
Outfit #7: It's a little bit business, and a little bit party.....just like you. I would bet it's not possible to have a bad day in this outfit. Power pants, magenta velvet, AND iridescent boots?! Yeah....you're gonna have a super-powered day in this one. Please use your powers for good. ⚡️💓👁‍🗨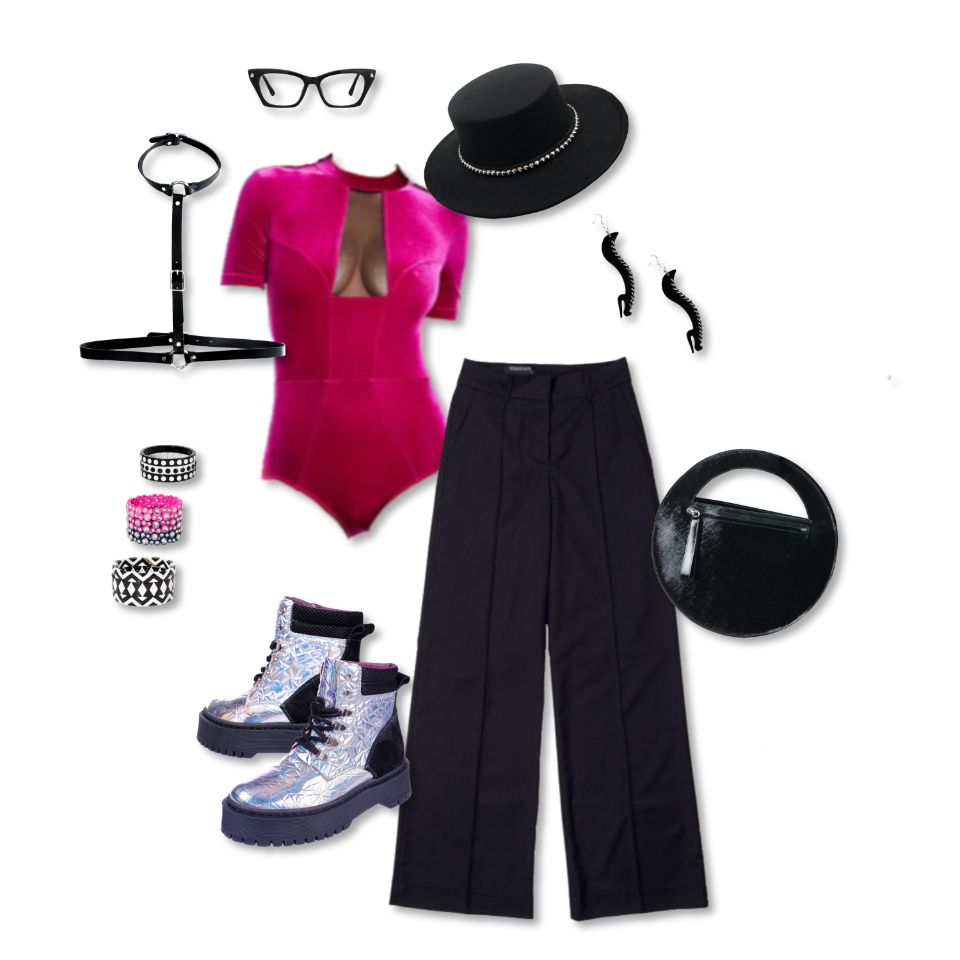 harness: Audio Helkuik
glasses: Zelool
swimsuit: Chromat
hat: Foxblood Shop
earrings: Jeromy Velasco
purse: EUG Fashion
pants: Wildfang
boots: Irregular Choice
bracelets: Roxanne Assoulin
Outfit #8: Am I just creating visual wishlists for myself? Perhaps. Probably. Yes. I want everything here on my body NOW! This look is just fun. I styled this for someone who doesn't take fashion so seriously. Getting dressed should be fun and they are having the most. Color! Pattern! Kitsch! 🙃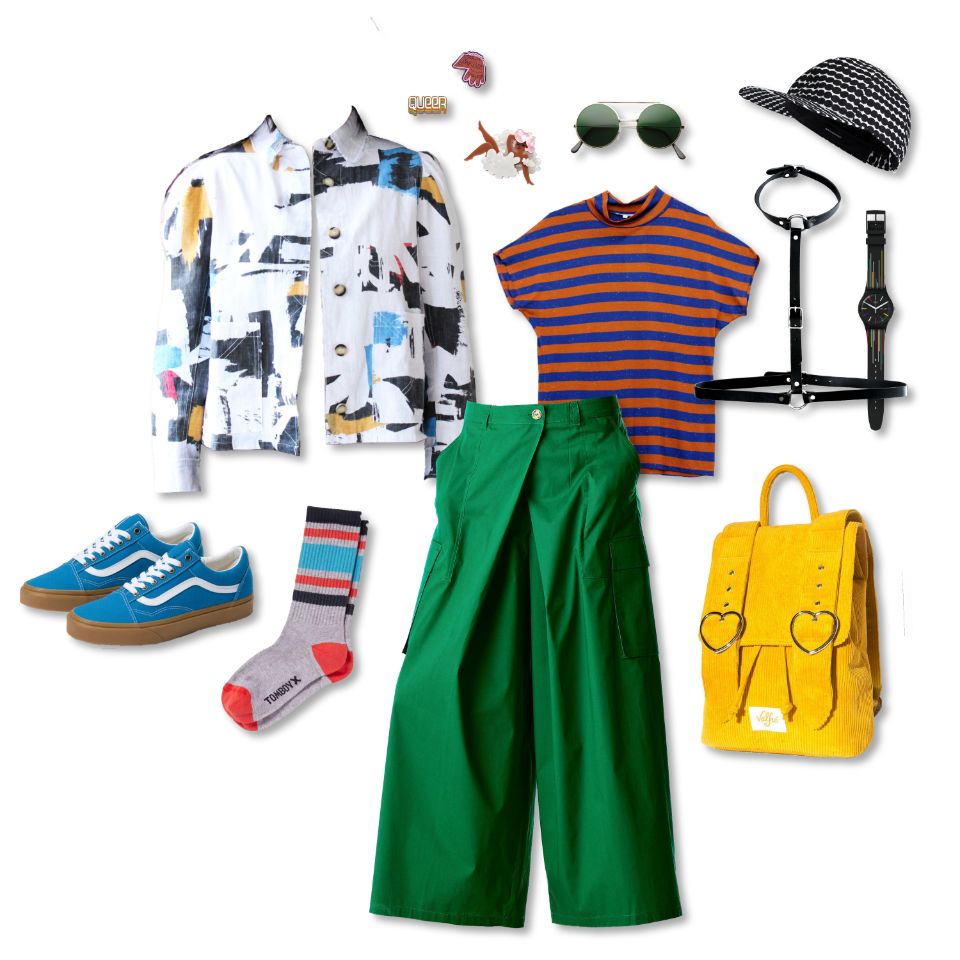 Jacket: The Chute
Enamel pins: Hey Rooney
Pin: Erstwilder via Daisy Jones Locker
Sunglasses: zeroUV
Hat: Marimekko
Watch: Swatch
Harness: Audio Helkuik
Top: Gira E Rigira
Backpack: Valfre
Pants: eShakti
Socks: TomboyX
Shoes: Vans
Outfit #9: I've gone from being anti t-shirt to styling them into most my outfits. I've seen the light and I understand the glory of the tee. Plus, if you pair a tee with a suit, you radiate badass rock'n'roll vibes. This particular tee was designed by my tattoo artist and friend Dave Koenig and everything he does is badass. Can't go wrong with this look. 🤘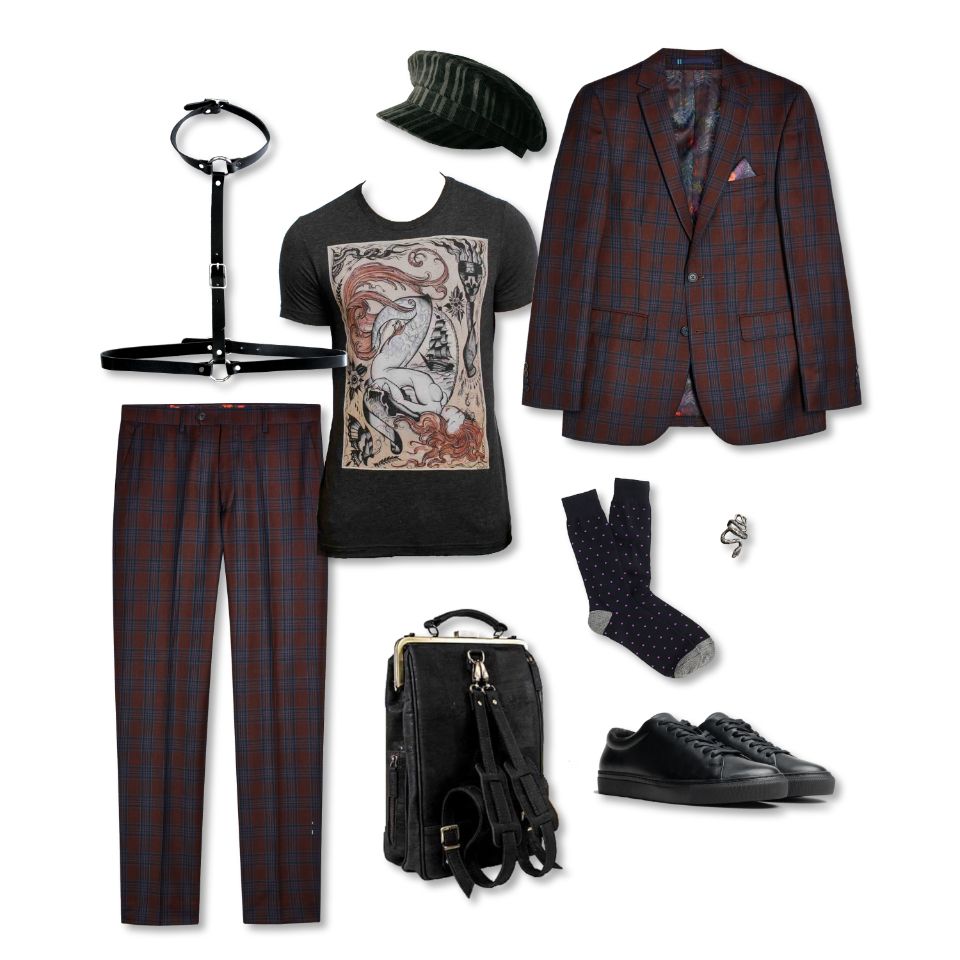 harness: Audio Helkuik
tee: Dave Koenig via Curbside Clothing 
hat: Gigi Pip 
jacket: Topman
ring: Jamie Spinello
socks: J.Crew
shoes: Wolf & Shepard
backpack: bobobark
pants: Topman
Outfit #10: This is the final look in this styling series. I'd say I saved the best for last, but I've already deemed every outfit the best, so it's hard to tell. I sure do love a badass femme look though. I always say you can make ANY outfit a good outfit if you have a pair of great boots and enough accessories. Luckily, this one starts out pretty killer AND we have great boots plus plenty of amazing accessories. ✨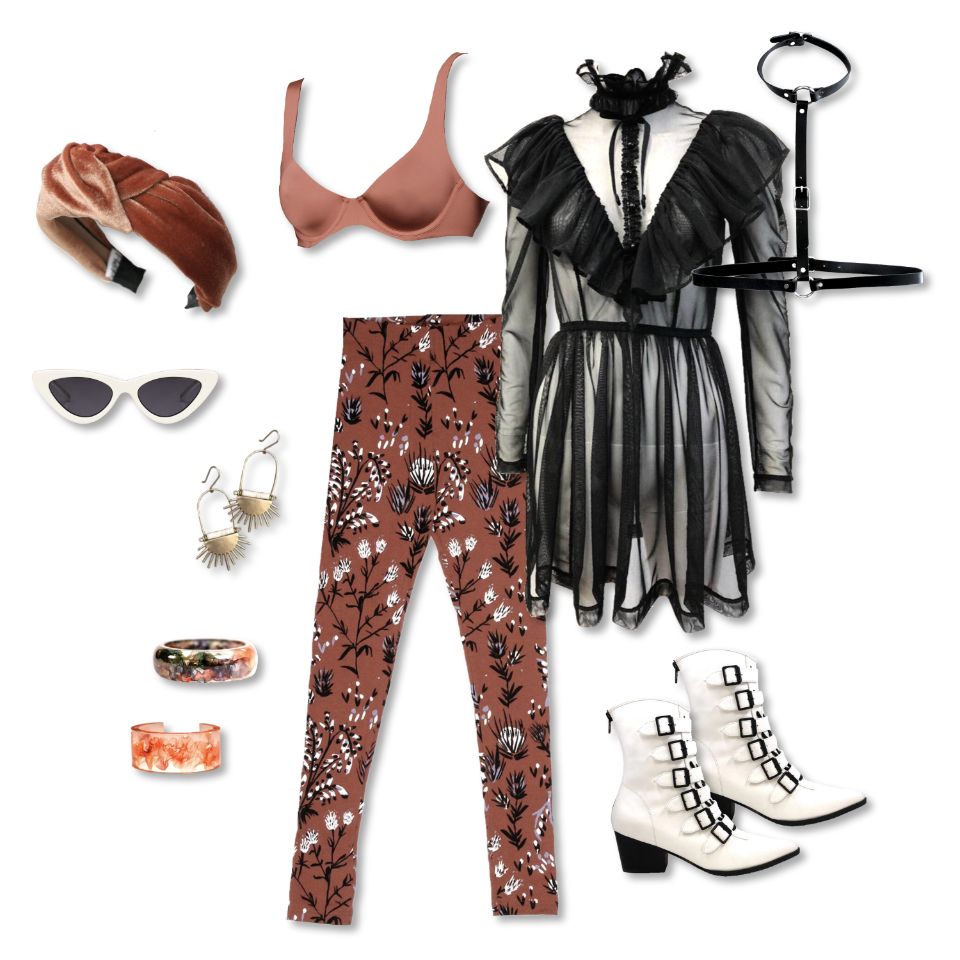 headband: Harts & Pearls 
bra: CUUP
dress: Agashi
boots: Strange Cvlt
leggings: Thief and Bandit via Dusk Goods & Gifts
bracelets: Fungi Studio
earrings: Alchemilla
sunglasses: Le Specs
That's all ten of the looks I put together with the Artifice Harness. Seeing all of these has me so inspired! I would wear ten out of ten of these. I want to run to my closet and put ten of my own outfits together with my harness!